CUSTOM WORK
---
Custom products, services, amp repairs, and guitar repairs.
L.A. SOUND DESIGN PI-01 PEDAL BOARD INTERFACE
MSRP $295.00
---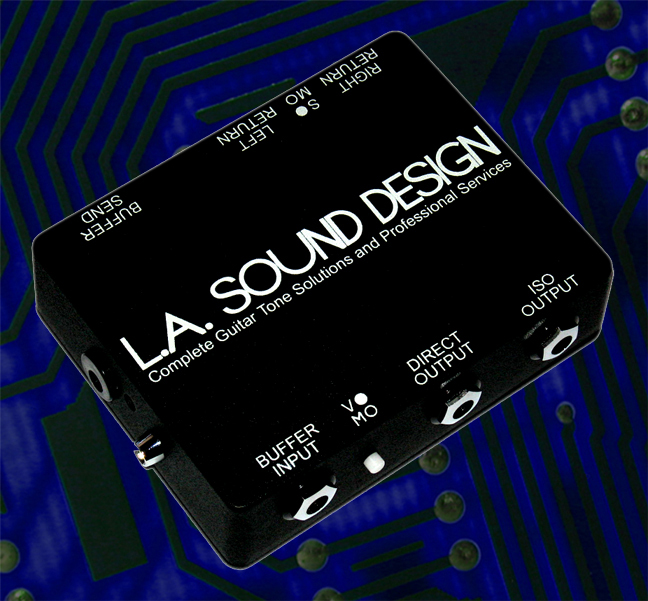 The PI-01 is the first in a line of high quality audio products from L.A. Sound Design. Designed by L.A.S.D. and Jensen Transformers, the PD-01 gives the consumer the ability to have one central location on the pedal board in which to plug into the pedals and send to multiple amps with no noise or signal loss.
The PI-01 solves the fundamental problem of most pedal boards: the interconnect cables create loading losses that deprive your guitar of tone, fidelity and volume level. This problem occurs even if all the pedals used are true bypass; the more pedals and longer the cable runs, the greater the losses. The PI-01 solves this problem by completely removing the loading loss effect, regardless of the amount of pedals or length of cables there are on the board.
Utilizing the finest Jensen transformers the board signal can be sent to two different amps in stereo with no ground hum. If you are not using stereo pedals the PI-01 set in mono mode splits the mono signal to two amps allowing the use of a separate A/B box to select between two amps.
Designed by engineers who truly understand audio, the PI-01 includes one of the most natural, musical sounding buffers made. Set in vintage mode it sounds identical to your guitar straight into the amp, set at modern mode it has a more hi-fi studio quality sound.
Custom Work
Labor rate - $75.00 per hour.
---
Products

A/B box starting at $100.00
Interface box - $95.00
Loop box - $150.00
In-Line mute box - $50.00 ($75.00 with L.E.D.)
Custom power supply - $495.00 (16 taps)
ISO box (Jensen transformer) - $150.00
Services

True bypassing - $50.00 per pedal (high grade Carling switch)
Power supply tap - $35.00 per pedal
Amp Repairs
L.A. Sound Design is pleased to offer in-house expert amp repair by Roy Blankenship and amp mods by Martin Golub.
---
Amp Repair

$80.00 labor rate
$80.00 minimum bench charge

Effects Loop - $425.00

Transformer change - $125.00
Plus cost of transformer.
Amp Mods

Crunch Mod - $450.00
Used by Scott Henderson, Michael Landau, Green Day, AFI, Sum 41, etc.
Vintage master volume gain.

Lead Mod - $650.00

Tesla, Doug Aldrich, Rob Cavallo.
High gain, extra tube stage, more compressed.